In the News


(619) 299-1988
Dr. Fred Frye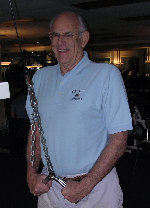 Clem Schwartz underwent aneurysm surgery and a radical prostatectomy within months of each other. Four years later . . . he received a quadruple bypass.
Six weeks after surgery, he was back on San Diego Country Club golf course where he plays two to three times per week.
His workout regimen at Gill's Fitness in Mission Valley - based on manual and machine induced resistance interspersed with hands-on stretching - became the cornerstone of his recovery.
Years of recreational athletics and the demands of a career in pediatrics left him with fragile knees, a bad back and a tender shoulder.
Now, rejuvenated by an exercise program . . . Dr. Fred Frye is reclaiming his fitness - and his posture - an inch or so at a time.
Frye has taken his competitive personality and applied it to Monday, Wednesday and Friday workouts at Gill's Fitness in Mission Valley.
With his personal trainers applying customized, hands-on resistance for strengthening and stretching, Frye is, indeed, reaching new heights.
San Diego Union Tribune - December 21st, 2004
Clem Schwartz
San Diego Union Tribune - August 29th, 2006
He's a retired attorney who, despite debilitating injuries and a hip replacement, computes handicaps in golf strokes, not physical impairments.
"One doctor told me that within six months I might not be able to walk," said Ron Svalstad, whose physical setbacks also include the removal of a kidney and surgery on a torn meniscus.
Working with Gill's Fitness, he's overcome the results of severe atrophy that forced him to walk with crutches and made golf an impossible dream.
Svalstad has returned to the links after a year's absence and worked up to three days a week.
"I'm hitting the ball farther than ever," he said.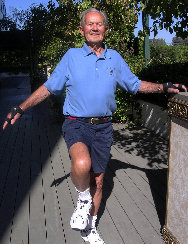 Shelly Brockett
San Diego Union Tribune - April 5th, 2005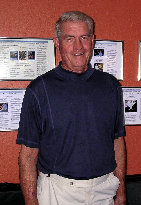 Ron Svalstad
San Diego Union Tribune - August 27th, 2003
Sheldon Brockett isn't above admitting that age has brought him down a peg. When you're 91 and more than three inches shorter than your peak height, you can find yourself looking up as often as you look back.
That was before Brockett . . . began a steady regimen of flexibility, balance and resistance training. As a result, with his 92nd birthday looming in September, he's feeling a lot stronger, more nimble and, yes, taller.
Ockenfels, a free-lance sound engineer, knew he needed exercise . . .
Diagnosed with multiple sclerosis 12 years ago, he had seen his mobility progressively decline.
A regimen of resistance exercise devised by Jonathan and Carrie Gill, personal trainers who routinely accommodate clients with limitations, has given him renewed strength, mobility and endurance.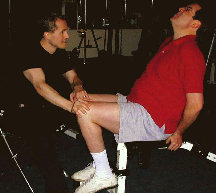 Mark Ockenfels
San Diego Union Tribune - March 11th, 2002
Marty Palecki, to her credit as a 50-something female, has nothing against curves.
At least not the figure-firming kind she's been cultivating during a regular workout regimen. Where she draws the line is that C-shaped, 70-degree misalignment of her spine, defined as scoliosis. "It hurt to the point I was bent over," she said.
Fortunately, Palecki is talking past tense these days. The head-to-toe strengthening and stretching program she eased into just under a year ago, under the hands-on supervision of Jonathan and Carrie Gill and their staff at Gill's Fitness, seems to be working.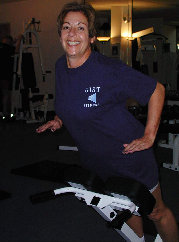 Marty Palecki
San Diego Union Tribune - April 23rd, 2001
Beverly Turchin, on the advice of her physician, began a program of hands-on training at Gill's Fitness, a facility that welcomes clients with disabilities. Eight months later she's testing out 300 percent stronger on a variety of exercises.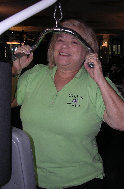 Bev Turchin
San Diego Union Tribune - October 30th, 2000